A NEW "unique" tour has been launched at Salisbury Cathedral, taking visitors 40ft high to view restoration work taking place.
The cathedral has warned the experience, which gives visitors a close look at its east face as well as views of the surrounding landscape, is not for the "fainthearted" or those afraid of heights.
During the 90-minute Among the Parapets tour, visitors climb up a staircase and two ladders to reach 43ft-high scaffolding on the building.
It takes them behind the scenes to where stonemasons are working on the east end of the cathedral - the oldest and most damaged part of the building.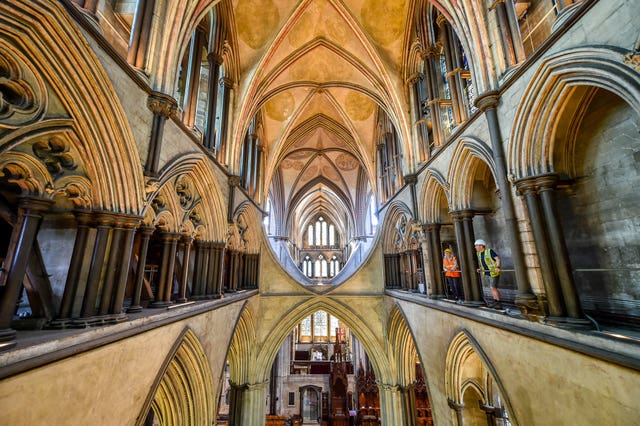 Visitors will be able to closely examine the stained glass window Prisoners of Conscience, as well as a former glazing workshop dating back to 1730 and used across the centuries by builders and restorers.
They will then go through a door into the cathedral to have a closer view of the scissor arches, which help support the 6,400-ton weight of the tower and spire.
Gary Price, clerk of the works at Salisbury Cathedral, said: "The last time there was scaffolding would have been in Victorian times, in the 1860s and 1870s.
"After the scaffolding goes, that's going to be it for a couple of hundred years so this really is a once-in-a-lifetime experience.
"Quite simply, this is a glimpse into the world of the stonemasons, a really rare opportunity to get up close to the work."
Gary said the tour was launched following the financial strain on the cathedral caused by the Covid-19 pandemic, with proceeds going towards the monument's £2million recovery fund.
Gary added: "We didn't have any income which is why we launched the recovery appeal."
Salisbury Cathedral's development manager Jilly Wright said it is hoped the appeal will reach the £250,000 milestone by Christmas.
She said the scheme has had a "heart warming response" so far, adding: "We're really doing [the Among the Parapets tour] now to help with the appeal, and we thought this would be a fantastic offer - something unique to Salisbury.
"It's the chance to see beautiful carvings, restoration up close and touch history. There's something about stepping into a new dimension of the cathedral and really experiencing its beauty, history and architecture in a different but connected way."
Each tour will accommodate up to four people from the same household or support bubble to ensure Covid-19 guidelines are upheld.
Anyone wishing to book an Among the Parapets experience should contact the Cathedral Development team on devadmin@salcath.co.uk or call 01722 555122.