Blizzards are hitting parts of the UK, as freezing conditions and heavy snow continue to wreak disruption.
A red weather warning – the second in 24 hours – has been issued for south-west England and south Wales as Storm Emma moves in, meaning the conditions could pose a risk to life.
The Met Office has urged those in affected areas to prepare for widespread heavy snow and very strong easterly winds, which will bring "blizzard conditions" and "severe drifting".
The weather front comes as the UK reels from the effects of the Beast from the East and just hours after a red alert for Scotland ended at 10am.
With sub-zero temperatures continuing to grip large swathes of the UK, the National Grid issued a "gas deficit warning" on Thursday morning, prompting fears of a shortage.
But householders were urged to "carry on cooking" by energy minister Claire Perry, who stressed that domestic supplies would not be affected.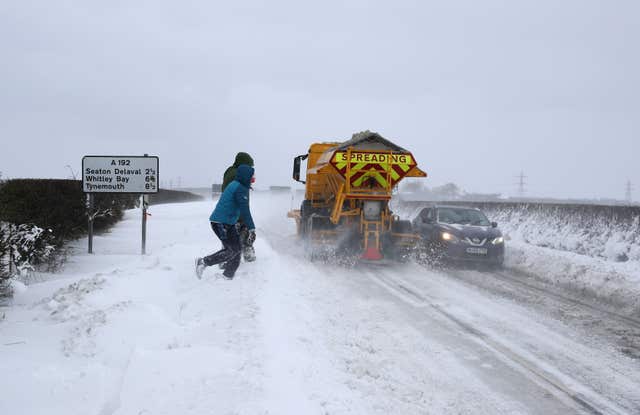 It comes as:
– Thousands of children enjoyed a second snow day, with hundreds of schools forced to close, including more than 125 in North Yorkshire and more than 330 across Kent.
– A 46-year-old man died after a collision involving a lorry and a van on the A34 southbound near Tot Hill services on Thursday morning, Hampshire Police said.
– A 75-year-old woman was found dead in a snow-covered street in Leeds on Thursday morning.
– Nearly all train operators warned of cancellations and disruption and hundreds of flights were cancelled.
– The Royal Air Force was drafted in to help relief efforts in snow-hit Lincolnshire.
The red snow warning issued for Wales and south-west England, valid until 2am on Friday, is just the third issued in seven years.
It means "widespread damage, travel and power disruption and risk to life is likely", with concerns some rural communities could be cut off for days.
Amber warnings for snow and wind are also in force for much of the country until 10am on Friday.
Snowfall will grow heavier through Thursday afternoon and evening with 10-20cm likely to settle widely across red alert areas, Met Office chief meteorologist Paul Gundersen said.
He added that freezing rain may batter parts of south-west England and Wales on Thursday night, potentially creating large, hazardous icy stretches as rain droplets supercool and freeze instantly upon hitting the ground.
The Irish Republic is also on red alert after being hit by the worst snow in 35 years, with Evelyn Cusack – senior forecaster with Met Eireann – warning 40cm of snow could fall in parts of the east and south.
Irish Taoiseach Leo Varadkar urged: "We are asking everyone to be at home and safe by 4pm today and to remain indoors until the severe weather has passed.
"I'll repeat nobody should be on the roads after 4pm today and everyone should be in home or indoors by 4pm."
Motorists across much of the UK have been warned against driving unless absolutely essential amid icy conditions and poor visibility, with Lincolnshire police describing travel on "most roads" as impossible.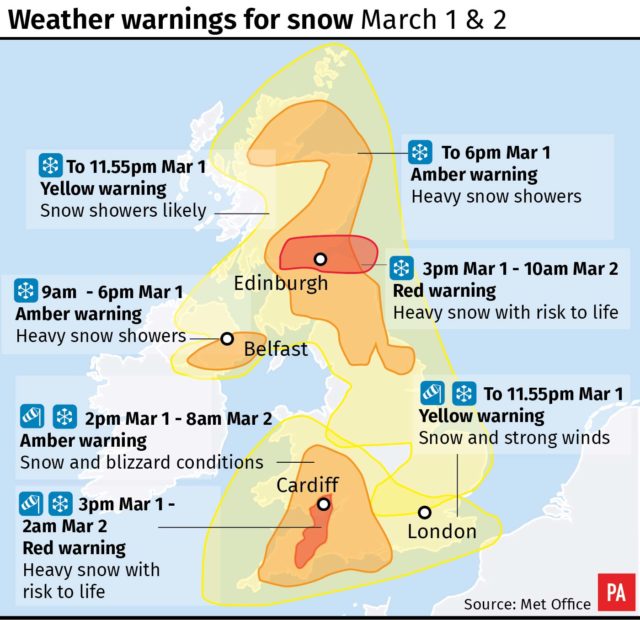 Highways England's head of road safety, Richard Leonard, said: "Gritters are out treating our routes around the clock, but it is still important to drive to the conditions when snow is forecast.
"If you need to travel in the morning, make sure you keep your distance and reduce your speed."
Scotland has faced the brunt of the extreme weather so far, with police warning the public against travel until the severe amber warning passes at 6pm.
Hundreds of motorists on the M80 near Glasgow reported being stuck for up to 13 hours, with some spending the night in their cars, and others abandoning their vehicles.
Around 1,000 vehicles were at a standstill, tailing back eight miles in both directions, Police Scotland said.
More than a foot of snow was dumped in some parts of the country – peaking with 34cm of snow in Wittering, Cambridgeshire.
The Met Office said it had likely been deeper than this in some places, but dry, windy conditions had made it hard to measure.
Temperatures dipped as low as minus 10.3C in Kinloss, Scotland, overnight.