Death Valley is approaching its highest ever temperature as parts of the planet struggle to cope with a record summer heatwave.
The valley along part of inland California's border with Nevada in the US has long been acknowledged as the hottest place on Earth.
Meteorologists with the US National Weather Service said temperatures were expected to reach a high of 53.33C (128F) at the aptly-named Furnace Creek.
Death Valley's brutal temperatures come amid a blistering stretch of hot weather that has put roughly one-third of Americans under some type of heat advisory, watch or warning.
Las Vegas also faced the possibility of reaching an all-time record temperature over the weekend.
Meanwhile, wildfires in Canada have led to air quality alerts in several US states, stretching from Montana to Ohio.
The hottest temperature ever recorded on Earth was 56.67C (134F) in July 1913 at Furnace Creek, according to an official at the World Meteorological Organisation.
Temperatures at or above 54.44C (130F) have only been recorded on Earth a handful of times, mostly in Death Valley.
"With global warming, such temperatures are becoming more and more likely to occur," the World Meteorological Organisation said.
"Long-term: Global warming is causing higher and more frequent temperature extremes. Short-term: This particular weekend is being driven by a very very strong upper-level ridge of high pressure over the Western US."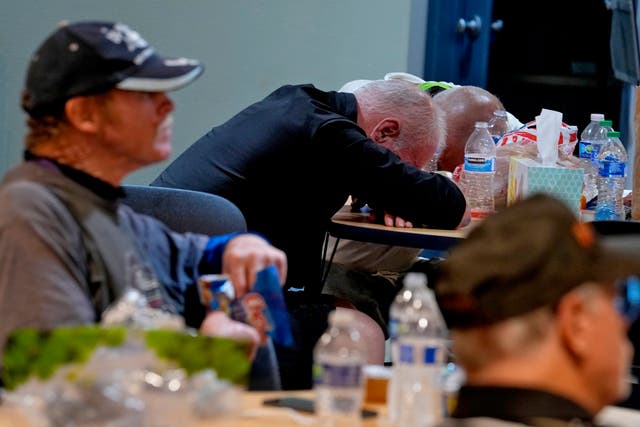 The heatwave is just one component of the extreme weather hitting the planet over the weekend.
Five people died in Pennsylvania on Saturday when heavy rains caused a sudden flash flood that swept away multiple cars. A nine-month-old boy and a two-year-old girl remain missing. In Vermont, authorities were concerned about landslides as rain continued after days of flooding.
On Sunday, Spanish authorities said more favourable weather conditions helped firefighters slow down the advance of a wildfire on La Palma in Spain's Canary Islands that had forced the evacuation of more than 4,000 residents.
The blaze, which started on Saturday, affected an area of about 4,600 hectares (11,300 acres) and burned some 20 houses and buildings.
Authorities had earlier urged people not to go near the area on the north-west side of the island. More than 300 firefighters were deployed and nine water-carrying helicopters and two planes are being used to try to extinguish the fire.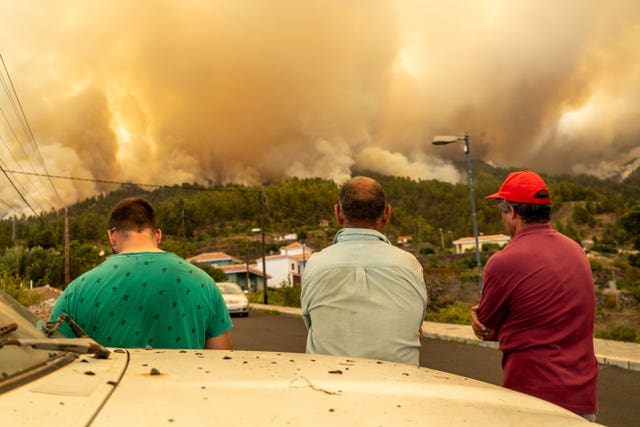 In southern France, human-caused climate change is lengthening droughts, meaning the reservoirs are increasingly drained to lower levels to maintain the power generation and water supply needed for nearby towns and cities.
It is concerning many in the French tourism industry, who are working out how to keep their lakeside businesses afloat in the long term if water levels remain low or unpredictable.
The three reservoir lakes in the area – Serre Poncon, Castillon and Sainte-Croix – quickly became a draw for nature lovers after their construction in the middle of the 20th century. They are known for their crisp, clear waters in undisturbed valleys surrounded by tall mountains.
The region attracts more than 4.6 million visitors a year, most of whom flock to the cool lakes during the summer months.
Water levels in the reservoirs are set and managed by national energy giant EDF, which operates the dams.
Last year, the low water levels from a lack of snow and rain in the spring meant the company was forced to draw on the reservoirs to keep hydroelectric power going and water pipes in southern France flowing for drinking and agriculture.
By August, France's government warned the country was in the midst of its fourth heatwave that year, further dwindling water supplies that evaporated in the blazing temperatures.
Tourism companies are already preparing for groundwater in the region not replenishing fast enough, with water restrictions possible
Heatwaves are not as visually dramatic as other natural disasters, but experts say they are more deadly. A heatwave in parts of the South and Midwest United States killed more than a dozen people last month.
It is also a worldwide phenomenon, with devastating heat hitting Europe along with dramatic floods in the US North-East, India, Japan and China.
For nearly all of July, the world has been in uncharted hot territory, according to the University of Maine's Climate Reanalyser.
June was also the hottest June on record, according to several weather agencies. Scientists say there is a decent chance that 2023 will go down as the hottest year on record, with measurements going back to the middle of the 19th century.
Death Valley dominates global heat records. In the valley, it is not only hot, it stays brutally warm.
Some meteorologists have disputed how accurate Death Valley's 110-year-old hot-temperature record is, with weather historian Christopher Burt disputing it for several reasons, which he laid out in a blog post a few years ago.
The two hottest temperatures on record are the 55C (134F) noted in 1913 in Death Valley and the same in Tunisia in July 1931.
Mr Burt, a historian with The Weather Company, finds fault with both of those measurements and lists a figure of 54.4C (130F) in July 2021 in Death Valley as his hottest recorded temperature on Earth, saying that "130 degrees is very rare, if not unique".
There are other places similar to Death Valley that may be as hot, such as Iran's Lut Desert, but these are uninhabited so no-one measures there, Mr Burt said. An official weather station was established in Death Valley in 1911.
A combination of long-term human-caused climate change from the burning of coal, oil and natural gas is making the world hotter by the decade, with ups and downs year by year.
Many of those ups and downs are caused by the natural El Nino and La Nina cycle. An El Nino cycle, the warming of part of the Pacific that changes the world's weather, adds even more heat to the already rising temperatures.
Scientists such as NOAA climate analysis chief Russ Vose said most of the record warming the Earth is now seeing is as a result of human-caused climate change, partly because this El Nino only started a few months ago and is still at a weak-to-moderate stage.
It is not expected to peak until the winter, so scientists predict next year will be even hotter than this year.